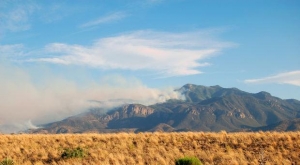 — Here is an update on a couple of the wildfires still burning in Idaho today. (FRIDAY)
*** The Sharps Fire, Six miles east of Bellevue on Sharps Canyon Road, is now 64,845 acres in size and Containment is now at 68%. The fire was started on Sunday, July 29th, by a person shooting at exploding targets. Firefighters will continue to work on the northern end of the fire, in efforts to contain the blaze. Other crews are working around the perimeter of the fire to make sure all hot spots are extinguished.
*** The Mesa Fire, 4 miles south of Council, now measures 34,378 Acres with 60% of the blaze contained. The temperatures will continue to be very hot through today with max temperatures between 100 and 105 degrees at the Incident Command Post.
*** The Rabbit Foot Fire is burning 22 Nautical Miles North of Challis. As of Thursday night, fire crews say the fire is 6,357 acres in size, with no containment, yet. The fire was caused by lightning last Thursday, Aug 2nd.