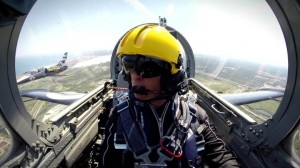 This week the 366th Fighter Wing out of Mountain Home Air Force Base is hosting "Gunfighter flag." It's a big training exercise to help pilots prepare to defend our country.
This large-scale force on force exercise features squadrons from Singapore and Australia, different branches of the military and Air Force pilots from all over the country.
At the end of every day, pilots learn what they did well and where they could improve. When Gunfighter Flag wraps up on Friday there will be an awards show that rewards the best of the best.
KIVI-TV reports, Mountain Home Air Force Base hosts the training twice a year – and is considered ideal – due to the massive amount of air space they can use.