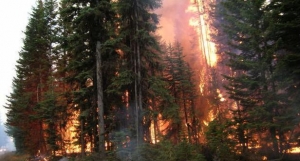 The Bootleg Fire continues to burn, approximately 11 miles northeast of the town of Sprague River. This is the fire that has been belching smoke into the Boise area.
As of late Sunday night, the fire has grown to over 303,000 acres in size and is still just 25% contained.
They are still expecting a great deal of wind and a chance of thunderstorms today in the fire area, which means they could have even more problems fighting the fire today.
The Bootleg fire is not the only fire blowing smoke into our area. There are many fires burning, from the northern edge of Washington thru Central California…Meaning, even if the wind shifts, we will probably have smoke blowing this direction from at least one of those wildfires.