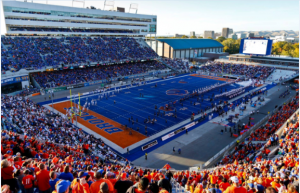 Boise State is no longer a dry campus.
Boise State announced on Monday, they will sell alcohol inside the general seating areas of Albertsons Stadium for football games this fall.
Details on brands and prices were not included in Monday's announcement, but Boise State confirmed acohol will be available at kiosks throughout the stadium, and in the Fan Zone, located in the northeast corner of the stadium.
Single-game tickets for all six home games went on sale Monday at 9 a.m. at BroncoSports.com.
Boise State also announced a no re-entry policy, meaning those that leave Albertsons Stadium for any reason during the game will no longer be allowed back in.