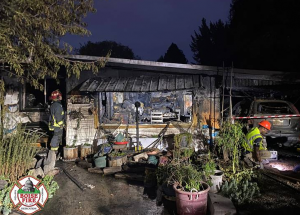 Two people suffered potentially life-threatening injuries after a fire destroyed a Boise home early Monday.
Boise Fire is investigating what caused the house fire in southwest Boise that destroyed the home and left multiple people injured.
Flames broke out at a home on the 10000 block of Huntwood Drive just after 2 a.m. on Monday morning.
Fire crews reported heavy fire when they got on scene, and a department spokeswoman confirms there were injuries involved. It's not yet clear how many people were hurt or how badly.
An investigation is now underway.