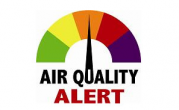 The Idaho Department of Environmental Quality issued an Orange Air Quality Advisory for southwest Idaho and the Treasure Valley because of high pollutant levels associated with smoke impacts.
The "orange" category is unhealthy for sensitive groups, according to the Department.
Air pollutants can cause breathing difficulties for children, the elderly and those with respiratory problems.
People who are sensitive to increased particulate matter or smoke are encouraged to avoid prolonged or strenuous outdoor activities during this alert. It is recommended that everyone else also limits prolonged or strenuous activities outside.
A Stage 1 Air Quality Forecast and Caution is in effect for Ada, Canyon, Gem, Payette and Washington Counties. The Idaho DEQ says this prohibits all forms of outdoor burning.