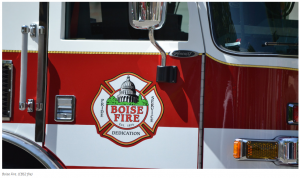 The Boise Fire Department was called to an apartment fire in the area of Vista Ave. and Canal St. Sunday morning.
The fire started on the outdoor deck of a second-floor apartment and extended into the apartment next door and the attic above.
A spokesperson for the department said firefighters were able to confine the fire to one apartment. Two surrounding apartments sustained minor damage.
The spokesperson said three families have been displaced and are receiving help from the Boise Firefighter's Union Burnout Fund.
CBS 2 News reports, one person was injured in the fire and was treated and released on the scene by paramedics.