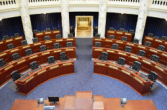 Some Idaho lawmakers are hoping to call themselves back into session this week to take action against President Joe Biden's recent vaccine mandate.
The group plans to hold a rally today on the steps of the Statehouse in Boise.
The Idaho Press reports, if enough House members are in attendance to provide a quorum, they hope to call themselves back into regular session.
The goal would be to pass legislation that bans any private businesses from requiring employees to get vaccinated against COVID-19.
You may recall, a small group of House members took similar steps last year, attempting to convene a special session to protest Gov. Brad Little's handling of the coronavirus pandemic. Only about 15 lawmakers showed up.