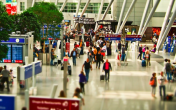 Thanksgiving is Thursday – and AAA says today is expected to be the busiest travel day of the week.
If you're flying this holiday, brace yourself for long lines and jam-packed flights because more than 20 million people are expected to travel this Thanksgiving.
The Boise Airport is no exception to the holiday travel chaos and today they expect to be back to pre-pandemic travel levels.
The Boise Airport is expecting 14,000 people coming in and out of the airport on its peak days, and it won't let up until after the weekend.
To check flight times and parking availability, you can visit the Boise Airport's website.