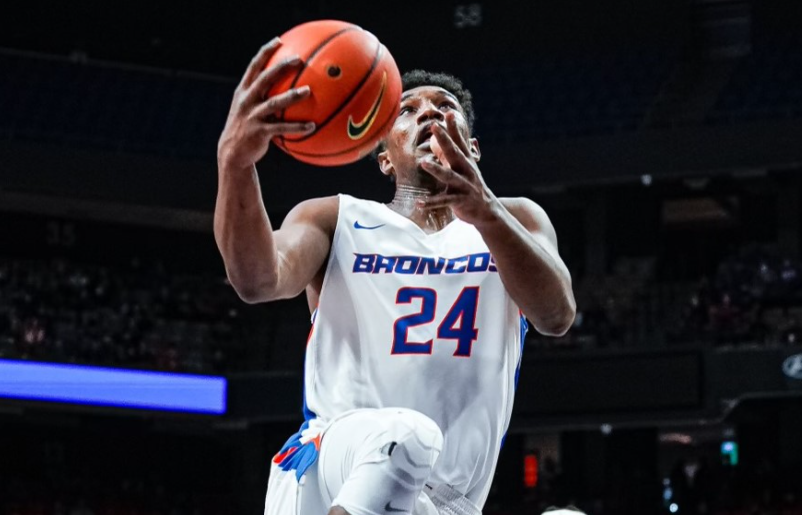 Credit: Boise State Athletics
BOISE, Idaho – A game that saw 12 ties and 17 lead changes needed an extra period before Saint Louis prevailed against Boise State, 86-82 in overtime, Tuesday at ExtraMile Arena. The Broncos scored the final four points of regulation to force overtime, but the Billikens tallied the final five points of the game to claim victory.
Freshman Tyson Degenhart, making the first start of his career, forced overtime with a jumper off the glass after driving to the block with 39 seconds left. Degenhart finished with season highs of 11 points, six rebounds and three blocked shots in 37 minutes.
The Broncos (3-4) had the last possession of regulation, but Emmanuel Akot's 10-foot jumper in the paint came up short. 
Abu Kigab scored a season-high 27 points to lead five Broncos in double figures. Kigab was 11-for-17 from the field and chipped in eight rebounds and three steals.
Saint Louis (7-1) scored seven of its 13 points in the extra period at the free throw line, shooting 7-of-8 from the stripe to finish the game 30-for-34 at the line. Boise State (3-4) was 12-for-26 from the free throw line.
The Broncos made eight three-pointers, getting three each from Marcus Shaver, Jr. and Pavle Kuzmanovic. Shaver scored 11 of his 14 points in less than five minutes during the second half, including a trio of three-pointers that brought the ExtraMile Arena crowd to life and pushed the Broncos back in front.
Shaver's other three points came via an old-fashioned three-point play late in overtime. He grabbed an offensive rebound and finished the putback while being fouled. His ensuing free throw put the Broncos in front, 82-81, with 42 seconds remaining in the extra period. Saint Louis scored the next five points for the final margin.
Kuzmanovic finished with a career-high 11 points. He and Degenhart reached double figures for the first time in their careers. Akot rounded out the double-digit scorers with 10 points.
Mladen Armus came up just shy of a double-double, finishing with eight points and 10 rebounds. He also tied for the team lead with three assists and blocked four shots.
Boise State closes out a three-game home stand Friday, against Tulsa. Tipoff is at 7 p.m. MT at ExtraMile Arena.