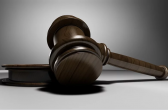 It was quite a day in a Boise courtroom where for just the second time Idaho held a clemency review for a death row inmate since 1977, when the state reestablished capital punishment.
Gerald Pizzuto and members of his family pushed for his life to be spared from the death penalty, the state and family of the victims maintained their stance that the convicted double-murderer and Idaho death row inmate should die by lethal injection.
The Idaho Statesman reports, the parole board is scheduled to meet again this morning (Wed.) for closed-door deliberations on Pizzuto's clemency request.
The board and its staff have not said when its recommendation to Gov. Brad Little will be made public.
Since 1977 Idaho has executed three prisoners, each by lethal injection — the last in 2012.