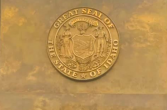 It turns out when it comes to your freedom, Idaho is pretty good place to live.
The Cato Institute released its annual Freedom in the 50 States report, an index of personal and economic freedom, and Idaho scored top spots on a number of the rankings.
Governor Brad Little says in a news release, there is a reason this sought-after report says Idaho is one of the most economically and socially conservative states in the country. The governor went on to say, Idaho prides itself on minimizing the role of government in the lives of citizens and in the operation of businesses.
Idaho scores in the top 10 for states ranking in Overall Freedom, as well as for Gun Rights and Health Insurance Freedom.
You can see the full list at: freedominthe50states.org