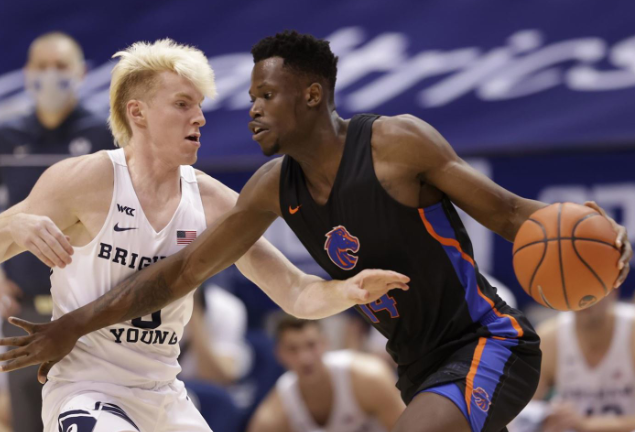 Boise State men's basketball opens Mountain West play Tuesday, at home against Fresno State. Tipoff is slated for 7 p.m. MT at ExtraMile Arena and can be seen on Stadium.
LISTEN LIVE: Radio coverage of the game will be broadcast on the Bronco Radio Network, including flagship station 670 AM KBOI in Boise, and online through the Varsity Network. Coverage begins at 6:30 p.m. MT.Play-by-Play: Bob BehlerAnalyst: Abe Jackson
ABOUT FRESNO STATE: The Bulldogs are 10-3 and have jumped 69 spots in KenPom.com ratings since the start of the year, currently sitting at No. 62. Fresno State is led by All-Mountain West forward Orlando Robinson, who is averaging 18.5 points, 8.2 rebounds, 2.5 assists and 1.7 blocks. The Bulldogs allow 54.9 points per game and 38.2 percent field goal shooting, ranking No. 3 and No. 23 in the nation, respectively.
SERIES HISTORY: Boise State leads the all-time series 24-22. The teams split last season's series. Fresno State has won five of the last eight meetings, including three of the last four played in Boise. The teams will meet again Jan. 28, in Fresno, Calif.
FRESHMAN OF THE WEEK AGAIN, AGAIN: Tyson Degenhart was named Mountain West Freshman of the Week for the third consecutive week after helping Boise State to a neutral-site win over Washington State Dec. 22, in Spokane, Wash. Degenhart scored nine of his 11 points in the second half to help key a come-from-behind win. His two free throws with 3:14 left gave Boise State the lead for good, while a Degenhart three-pointer a minute later pushed the Bronco lead back to four.
CONFERENCE OPENERS: Boise State is 28-23 all-time in conference openers, including an 8-3 mark during Leon Rice's tenure as head coach and 7-3 since joining the Mountain West. The Broncos have opened conference play against Fresno State twice before. Boise State kicked off its 2013-14 Mountain West slate with an 86-79 home win against the Bulldogs. The other instance came on the road in the 2009-10 Western Athletic Conference opener.
SIX STRAIGHT: Boise State enters Mountain West play riding a six-game win streak, during which it is outscoring the opposition by 19.5 points per game. The Broncos have held each opponent to 60 points or fewer during the streak, limiting them to 36.5 percent field goal shooting and 28.6 percent on three-pointers over the last six games. Boise State is shooting 48.5 percent from the floor and 39.8 percent from three-point range during the stretch.
CALLING CARD: Boise State head coach Leon Rice claimed before the season that the 2021-22 Broncos had a chance to be the best defensive team in his 12 years as head coach. Through 13 games, they have made good on that prediction. Boise State is holding opponents to 58.5 points per game. The Broncos have held 12 opponents to fewer than 70 points, eight under 60 and two under 50.
POWER PLAY: Boise State has 15 wins against power five conference opponents in program history. Nine of the 15 such victories have come during Leon Rice's tenure as head coach, including two this season. With wins over Ole Miss and Washington State, this year marks the second time in program history, and the first since 2013-14, the Broncos have beaten two power five schools in the same season.