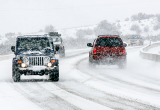 We have a Winter Weather Advisory in place again today (Thursday) until 11pm in the Treasure Valley and we could see 4 more inches of snow on the ground today, with more in the higher elevations.
After today, we will have cold temps move in for New Years Eve and will stay that way through the weekend.
Much like Wednesday, we expect snow sometime this morning and pick up around lunch time. Winter driving conditions are probably going to be in place for much of the day.
The Treasure Valley could see about 1-4" of snow. The mountain valleys should get between 3-6" while most of the ski resorts will have over 6" of fresh powder by the end of the day.
Heads up. The temperatures will struggle to get above the low 20's this weekend. Overnight lows will drop into the single digits!