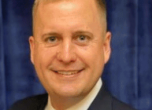 A House legislative ethics committee will meet Wednesday morning to discuss the rape complaint against Idaho state lawmaker Rep. Aaron von Ehlinger.
The freshman Republican from Lewiston has denied the allegation. His attorney has called for the ethics investigation to be dismissed, saying the encounter was consensual.
CBS2 reports in the complaint filed by House Republican leaders on March 17 the accuser told Assistant Sergeant-at-Arms Kim Blackburn that she was assaulted after von Ehlinger took her out to dinner and then back to his apartment on the pretext that he'd forgotten something.
The House Ethics committee is expected to hold a public hearing where evidence and testimony can be presented and von Ehlinger could present a defense.
Then the committee will make a recommendation to the entire House on whether the allegations should be dismissed or if action should be taken.
Penalties can include a formal reprimand, censure or expulsion.