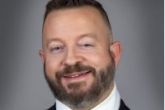 Ada County Commissioner Ryan Davidson is the subject of an Idaho Attorney General investigation.
While the details of the investigation remain unknown, The Idaho Press reports, Davidson in March had a conversation with a judge, in which he requested that activist Ammon Bundy be granted access to the Ada County Courthouse without a mask.
Some suggested Davidson's attempt to influence the judge raised ethical concerns and may have actually violated state law.
The Idaho Press reports, the Idaho 97 Project, a privately funded advocacy group that formed in opposition to anti-mask advocates, in March filed a complaint with the Attorney General's Office requesting Davidson be investigated for violating the bribery and corruption statute.